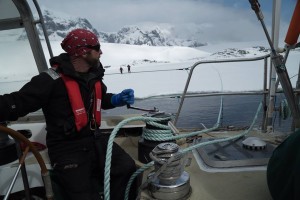 Darrel Day first went to Antarctica in the summer 1999/2000 and has  been sailing in Antarctic waters every summer since 2003 when he purchased Spirit of Sydney and have supported numerous expeditions including documentary makers from Discovery Channel's Globetrekker, scientists from Oregon State University Marine Mammals Institute (tagging Humpback Whales), University of British Columbia, (Orca study), as well as documentaries, like Animal Planets 'Steve Irwin The Croc Hunter HBOs VICE HBO Munchies (First ever cooking show filmed in the drake) See the media section of this website. Other expeditions have included National Geographic photographers, mountaineers, dry suit divers and kayaking expeditions including Andrew Mc Cauley's epic sea kayaking expedition in Antarctica. On one of the most memorable expeditions, 13 school children from Geelong Grammar sailed aboard Spirit of Sydney  for a very memorable expedition, sailing, kayaking and ski touring the peninsula ,Jorgen Amundsen 100 year anniversary of his great uncle reaching the south pole. Last season with the enthusiastic support of Spirit of Sydney, Darrel we became the most successful Yacht Captain team in mountaineering support in Antarctica.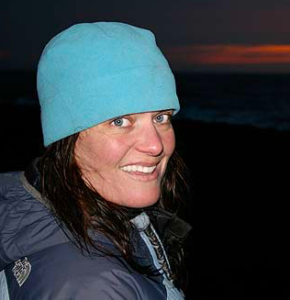 Justine Curgenven is an award winning adventure filmmaker and expedition seakayaker, who's programmes have aired on the National Geographic Channel, Channel 4, Channel 5 and the BBC. She runs Cackle TV and created the highly acclaimed "This is the Sea" series of sea kayaking DVDs. Her films have won over a dozen prestigious prizes including best adventure film at Banff & Kendal Mountain Film Festivals. She regularly gives slide presentations and writes magazine articles, nationally and internationally. Justine was previously a competitive sportswoman, winning 9 Blues at Cambridge university and representing England at hockey at Universities level. At Cambridge University, where she graduated with a science degree, she was also president of "The Ospreys", the Cambridge University womens sporting association. Once Justine left university she worked as a Television journalist and then a multi-skilled programme maker, learning the skills necessary to tell a story using moving pictures. She also discovered the world of nature and adventure and put down her hockey stick in favor of a kayak paddle, a mountain bike and hiking shoes! She went on many adventures including biking across the Pyrenees mountains from coast to coast, trekking in the Himalaya & climbing the almost 7,000 metre Mount Aconcagua, the highest mountain in the Americas (which she filmed for a National Geographic series). In 2002, she competed for England in the surf kayak world championships winning several of her heats and helping England to 4th position.
Hi, my name is Léo Tabourel, i'm half French, half Brazilian. i come from the South of France near by Montpellier city.
I start sailing when i was 15 years old in Marseille area and at 18 years old i cross the Atlantic for the first time from Portugal to Brazil. From that crossing i decide to live my life as a sailor wish is my passion. When i was 20 years old i had the opportunity to be the 1st mate on a 60 ft sailing boat to sail in Patagonia and Antarctica. During 9 months we sailed across the Patagonian Channels to the Cape Horn and sailed around 9 times. Then 1 month in Antarctica to then sail back up the channels to Puerto Montt.
After this adventure, i decide to do my Captain degrees in France wish is the Captain 200, now completely valid.
Since i have the Captain licence, i have been 4 months in Norway and delivered a boat from Turquie to Virgin Island, 1 months and half on a scientific vessel call Tara, 4 months on a luxury race boat around the Mediterranean sea.
I Deliver a boat from Panama to Tahiti, sailing through Marquesas and Tuamotus islands. Arriving in Tahiti i end up Captain on a private 16 m monohull during 6 months sailing around French Polynesia.
After Polynesia, i delivered a race Catamaran ex Gitana, ex Orange and ex Kingfisher from Helen Mc Arthur, from Tahiti to New Zealand, then New Caledonia to Australia and then Australia to Micronesia.
After 2 years and half in the Pacific i went back to France and flew back to Tahiti for another delivery from Bora Bora to Australia.
Now i'm 1st mate on Steinlager 2 in New Zealand, ex winner of the whitbread race with the legendary Peter Blake to keep going on his legacy, teaching kids how to sail, working on the leadership and teaching then how to be respectful of the environment and humble with the elements.
Antarctica is now calling me back and i feel fully competent and confident to manage properly and safely an expedition on the beautiful Spirit of Sydney.
Best regards